First of all let me just tell you, is not easy lol   I had a great time visiting stores and learning about the different ways you can make a quilt.   I'm not a professional sewer I'm a stay at home mom that likes hand made crafts.   I wanted to make quilts for my children so they will have a memory from childhood made by mom 🙂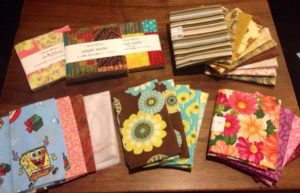 The best part is the gathering of your fabrics.  There is soooo many different designs and color pallets out there it's sometimes overwhelming lol    I wanted to buy all of them but reality is I was on a budget so I played smart and I started to visit some fabric stores and see what was on their clearance rack and that helped me a lot!
Then the second step was to choose a color pallet.  I was at a store once and a lady told me that for a beginner the best way to quilt was by using a center piece.  She called it a panel.  She explained to me that all I had to do is find one that I liked and then I can buy the fabrics to match the colors on the design.   After that she introduced me to the quilting squares and OMG… I has addicted to them lol   The packs come precut and in matching color patterns, sooo  great!    So I did… I found a cute doll panel, and I started to bring it with me everywhere I went to see if I could find some matching squares.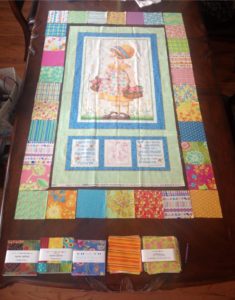 When you are on a budget it is best to do your research and do not be scare to ask a bunch of questions about the project, believe it or not the more you share your idea the more advice you will get.   I was very fortunate to find all the ladies that shared with me their tips and experiences.
Now I was getting excited.   Every time I came from the store I will lay down the panel and I will play with the different color squares and in the end I had a design for my quilt, Yay!   It is a long process but in the end it will be worth it!    I follow all the advise I got, I ironed all the pieces, I sewed my squares in sets of 2s.  and I added a frame around the panel to make it stand out from the other fabrics around it.  Once I was done with my top part then I purchased the stuffing and a full piece for the back of the quilt and sewed all 3 pieces together.
Then I choose a green fabric to do the edge of the quilt and It was done!!!!
I was so proud of my quilt and it was very simple but it was all mine and to see my daughter's reaction when I gave it to her was the best part.    I guess what matters is that I didn't get discouraged about not knowing what to do or how to get started, this project was fun and even though it took me some time to finish it, now I can say I've done it!
In our Little Craft Box group we have so many talented ladies willing to help to guide others to achieve their goals and to finish their projects including me.   If you ever need help with starting the planning of your quilt just send me a message and no matter where you are I will there to help you out 😉
We have a group on FB https://www.facebook.com/groups/90478823621/