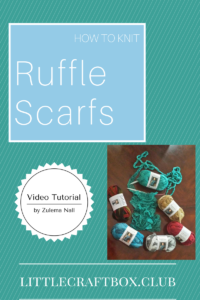 I'm sure you all know about the Ruffle Scarfs, but do you know how easy it is to make one?  
Well…  by the time you finish reading this post you will know how to knit your very own ruffle scarf  :)
Ruffle Scarfs are not only the perfect knit project  it is also the perfect gift!
Materials:
1 ball of  Starbella or Sashay yarn
1 Set of needles size 6,7 8 or 9
1 Tapestry needle
Yep, this is all you will need 🙂
I'm sure you might be thinking… "why did she mentioned 2 different options of yarn?"  It's because both of this yarn brands offer a variety of styles and colors, and the results are very similar.
Instructions: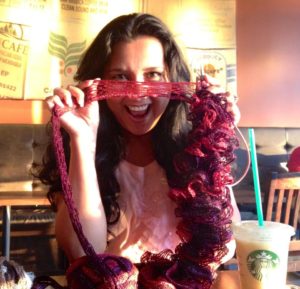 To get started you won't be doing the traditional Cast On.   This yarn has already a
design and you will be using the holes on their patter to get started.  I know it sounds like a crazy idea and by me telling you this it might confuse you more, so I made a little video explaining the difference between both brands and styles and I also teach you how to get started 🙂   
For a better understanding please feel free to watch the video below or just click on this link.
Happy knitting!
Click on the video to see how is done!
Thank you for Subscribing 🙂