When my sister came to visit me this summer, she was asking me if I knew how to make Pom-Pom Sandals and I was like….  "No, but we can try to make some"  And that is exactly what we did.     So, we gather the kids and went to the store.  It was fun choosing the perfect sandal and embellishments 🙂   Here are the steps on how to make your Pom-Pom Sandals!
Materials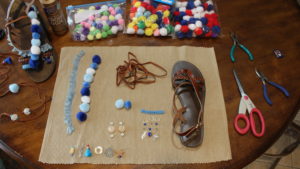 1 Pair of Sandals
Pom-Poms
Ribbons
Beads and Metal findings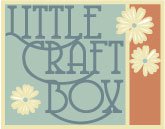 Tacky Glue
Scissors and Plyers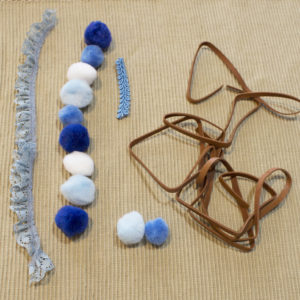 Instructions:
I used the ribbon and Pom-Poms to decorate my sandals I glue them with Tacky Glue.   In my case I added some Brown matching strings to the sandal so I can tie it to my leg (Roman Style)  and I added beads and the metal findings to my sandal as desired.
Michael's has a very large selection of ribbon, beads and metal finings.  I always go to the Clearance rack first to see what they have 🙂
For a better understanding on how I decorated my Pom-Pom Sandals please view the video below.  Thanks for Subscribing!